APEX CHOOSES TECNAM P2012 FOR SKYDIVING OPS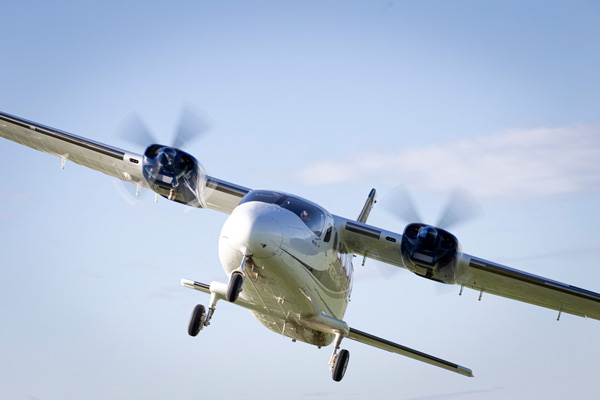 CAPUA, Italy –  Costruzioni Aeronautiche TECNAM is proud to announce a further expansion of mission capabilities for the versatile P2012 aircraft series with Apex Flight Academy in Taiwan has signing a contract for a TECNAM P2012 in a purpose-built skydiving configuration.
In 2019 the P2012 Traveller commuter airliner began commercial operations and was quickly followed by Air Ambulance, Combi and Cargo variants.  TECNAM revealed in summer 2020 the P2012 Sentinel Special Mission Platform. Winter 2020 has brought the sixth variant to the P2012 and a new option for jump operators.
The P2012 jump ship will provide benefits for the operator, the jumper and the diver driver. For the operator: low op cost for a twin, mid-size load factors with good time to climb. The jumpers get a big door, and a fuselage that will accommodate launching chunks and easy access for tandems. Jump pilots get full FADEC piston engines for no-hassle engine management, easy hot engine starts, and less CG worries as jumpers bomb the door.
This new configuration will also enhance the P2012 Sentinel SMP mission capabilities, providing to governments and militaries a low acquisition and operating cost jumping platform as primary or secondary tasking.
Giovanni Pascale Langer, Managing Director TECNAM: "TECNAM is delighted to further expand the already wide offerings of the P2012 aircraft series with the introduction of our skydiving variant. Whether it will be used for fun jumpers, tandems or operational missions on the Sentinel, all TECNAM customers will benefit from the unrivalled efficiency and safety of the P2012 common platform".
Wilson Chien Yu Kao, CEO Apex Flight Academy: "We are pleased to announce the acquisition of P2012 with the parachuting capability, this will allow us to develop a new market in an effective and efficient manner in the general aviation space in Taiwan, as P2012 is the most modern, safe and compliant aircraft we can currently find in the market for our needs, especially with its twin engine design, this gives our customer and authorities a greater peace of mind. We believe the P2012 Traveller both passenger and SMP version will allow us to expand into other market that has been long under served."
About Apex Flight Academy
Apex is accredited by the Civil Aeronautics Administration(Taiwan). All of our training program, instructors, equipment and aircraft meet and exceeds the highest ICAO, FAA and EASA standards and requirements.
Apex have also been accredited by Vietnam and Cambodia's Civil Aviation Authorities as one of their overseas Approved Training Organization(ATO). Apex also offers degree program with Embry-Riddle Aeronautical University Asia, one of the best degree program in the aviation industry.
more info on P2012